Saturday, 21 December 2013
HELLO! WELCOME TO THE FESTIVE SEASON EDITION OF THE SAVE LEA MARSHES WEEKLY DIGEST
. WE PRODUCE THIS TO UPDATE PEOPLE ON WHAT'S HAPPENING IN THE LEA VALLEY AREA WITH PARTICULAR REGARD TO TRYING TO KEEP OUR GREEN SPACES AS HAVENS FOR NATURE AND AREAS FOR PEOPLE TO RELAX, UNWIND AND ENJOY.
This week's Christmas stocking of news, conversations and information includes:
LVRPA - last Saturday, some SLM campaigners and others attended the first "workshop" that the Lee Valley Regional Park Authority has held since it decided to cease having the User Forum. Our general consensus was, that the format of the meetings was not really a workshop and not greatly changed - the format of the meeting consisted of LVRPA representatives reporting back on recent work; telling us of plans and inviting comment and participation. The London Wildlife Trust's report on the biodiversity of Leyton Marsh, was also discussed. There were some factual inaccuracies noted, which we would want to see changed before the LWT report is endorsed. However, as it is the season of being jolly, SLM will keep open minded, whilst we will continue to be critica and take action, if promises of change are not satisfactorily fulfilled. One of our representatives also met with the Chief Executive of the LVRPA, Shaun Dawson in a long-standing, pre-scheduled meeting to discuss some of our concerns about the Lea Valley, and how working more cooperatively with local people is in all of our interests. There was some promising feedback from Shaun Dawson - which, if acted on, will be good progress. We'll follow up on this more at a later date.
MABLEY GREEN - our friends at Mabley Green, who were planning to extend their community garden project into a fully fledged "Edible Garden", have had a major setback, with fly-tippers dumping tons of rubbish on the site causing a big cost to Hackney Council. SLM extends its heartfelt sympathies. The story is on the front page of this week's "Hackney Gazette". I have to confess that when I first caught sight of it this morning (without my glasses) I jumped to the conclusion that these were before and after pictures of East Marsh!
EAST MARSH - our "dibbings" into the goings-on at East Marsh, continue. It seems that handover from the LLDC (London Legacy Development thingy), should have happened on 2 December, when the Ruckholt Road Underpass was supposed to have been completed. The Heras Fencing will stay put and be up to Hackney to maintain. Mountain bike lanes have also been added (as we reported in the past). The LLDC appears (conveniently) to not be clear about the implications of common land are. The retention of the car park is part of the works and covered under Hackney Council's legal arrangement with the LDA (and successors). However, this has not had the required planning permission seehttp://idox.hackney.gov.uk/WAM/ShowCaseFile.do
STOKEY LOCAL - The good news is that, following the recent Planning Sub Committee debacle; campaigners have inundated the Secretary of State for Communities, with requests to "call in" the application. The Minister has requested more time to think (or perhaps get through his Mince Pies ..). The story is on p.6 of this week's "Hackney Gazette". However, don't get complacent, the campaign still wants people to write letters to the SSofC and have drafted some points for general use. see http://us2.Campaign-archive2.com/?u=747f6d2c72e4ced2aced01c000eid=dc37becdfeee= (you might have to go to the Stokey Local webpage to access this one).
POCKET PARK - school pupils and residents will be consulted on designs for a new "pocket" park. Hackney Council has been awarded £40k to create a welcoming green space at Trelawney Estate, Morning Lane, Homerton (to be inspired by Loddiges Nursery - the biggest hothouse of the 18th-19th centuries). Full story also in the "Hackney Gazette" p.4. This is welcome news, lets hope we see more green consciousness on behalf of the Hackney Council in the New Year.
Well, it remains to say - have an enjoyable seasonal time - and do get out and about and enjoy the green spaces over the festive period and let us know if you see anything you want to tell us about - positive or negative. We'll be having a little break but already preparing for a busy New Year. Our next meeting is at 7.00 at the Princess of Wales pub, Lea Bridge Road, Hackney on Monday 6 January. The meetings are open for any new people who want to come.
Friday, 13 December 2013
I have lived within Edison close for 15 years and have never witnessed red or blue tape within this visintiy indicating that there has been an incident.
There are a lot of teenagers living in Edison Close or surrounding the close as 15 years ago these young adults where minors.
I do not feel intimidated by these young adults nor have I witnessed intimidation from these teenagers.
I am highly concerned of the ethnicity of the CCTV cameras which are being placed. they are large, vulgar and intrusive!
I have not been contacted by the council to inform me of the new arrangement or have not been informed of any proposed changes to the close regarding the installation of 4 enormous CCTV units.
I have never been asked via door to door survey or written by the council if I feel CCTV would make my neighbourhood safe and secure.
after reading the statements from Sam Russell and Glen Wallis I feel that the reason for the CCTV has come from your local statistics or even targets that had to have been met for the CCTV to be implemented for the councils own agenda.
I have spoken to numerous neighbours and they are disappointed of the lack of information regarding the installations.
The hight of the cameras are very disturbing to as the cameras can pivit they will be within the view of bedroom windows. this is very intrusive and surely not legal.
the cameras are so tall an offensive I can see the camera poles from Walthamstow train station.
Walthamstow market are able to have discreet cameras which is obviously a place where deterrents should be high and visible CCTV would be accepted unlike Edison close.
I would propose the cameras be removed until the neighbour hood has agreed to the installation or a more discreet device is placed.
Posted by

WFOC
at 21:23
No comments:

The Association of Local Government Ecologists produced a report in November 2013 called 'Ecological Capacity and Competence in English Planning Authorities: What is needed to deliver statutory obligations for biodiversity?'.
It states, '
The results show that many local planning authorities do not currently have either the capacity and/or the competence to undertake the effective, and in some cases necessarily lawful, assessment of planning applications where biodiversity is a material consideration.' I would have thought that being two of only three London boroughs without a biodiversity officer places Hackney and Waltham Forest at the very bottom of any league table of competence, and would call for this to be rectified immediately.
Not sure you will find the report as the web site seems very out of date!
ALGE
Friends of St James Park invite you to join them to plant daffodils in St James Park on
Sunday 15th December
from
1-3pm.
Come along and help plant daffodil bulbs. Please bring tools and any bulbs you can spare. The Friends of Lloyd Park are also asking all park fans to send in their best photos of Lloyd Park, in any season.
Email
your favourites (and your name) and visit their new
website
.
WEED-KILLER - in response to SLM members' concerns about Glyphosate weed killer being used on our greens spaces and our streets, this week's "Hackney Gazette" front pages features an article by Emma Bartholomew, about the dangers and the £40,000 a year costs of using this dubious way of keeping our streets weed free.
CROSS MARSHES - SLM organised a meeting of groups and interested individuals last Sunday at Ye Olde Rose & Crown, Walthamstow, to discuss the Lee Valley Regional Park Authority (LVRPA) commissioned report on the state of Leyton Marsh, carried out by the London Wildlife Trust (LWT) and also to discuss having stronger bio-diversity measures used by Waltham Forest and Hackney Councils, including permanent Bio Diversity officers. Resulting from this two letters have been drafted and sent to our contacts inviting them to sign up to the letters by Friday 13 December.
LVRPA MEETING - as reported last week - the LVRPA decided to drop it's user group meetings and replace them with other ways
they think
local people with want to engage with. Despite questioning the lack of consultation on this, we discussed the issue at the Cross Marshes meeting and decided that as being fair minded people, those who wish to attend this meeting, should give LVRPA personnel a chance to outline what they are proposing. The meeting which will discuss the LWT report will take place at 1.30 at the Waterworks. People are requested to contact Martin Page
MPage@leevalleypark.org.uk
if they are intending to attend.
HACKNEY BIO DIVERISTY - we have been alerted to the Draft Hackney Local Development Framework. Chapter 6 of this, specifically relates to bio diversity (although we think it needs strengthening). see
http://www.hackney.gov.uk/assets/documents/
NEWS FROM OTHER CAMPAIGNS - we like to give our support to other local groups and campaigns in SLM - we know how hard it can be to stand up and to keep the energy flowing - so this week, we give a heads up to the Southbank Skate Park campaign. Since last week, the park has been closed by the South Bank organisation "for repairs". SBO want to see the Skate Park moved to another site, so it can use the space for more "income generating" activities. This plays scant regard to the importance of "self generated" activities. This space was the first dedicated space for skateboarders - it has "a legacy" in a real sense, not just in the Olympic sense of the word. The campaign is appealing for support on planning see
http://on.fb.me?lcXeqw8
Also, get yourselves down to Hackney Town Hall this Wednesday 11 December at 6.30 to support Stokey Local and its campaign to stop the Sainsbury's development in Stoke Newington, overlooking Abney Park.
ORGANIC LEA - news from our friends at Organic Lea, includes (a) a new scheme to get people involved in helping people use or share their gardens more effectively, growing organic vegetables - contact
jen@organiclea.org.uk
for more information and (b) if you are quick there is an interesting job on offer: Volunteering Development Officer, for 30 hours a week. Closing date is this coming Monday 9 December. See
www.naturewise.org.uk
or contact
info@naturewise.org.uk
NEXT SLM MEETING - MONDAY 16 DECEMBER, 7.30 AT THE HARE & HOUNDS, LEA BRIDGE ROAD, LEYTON. All welcome - not just the "usual suspects" ...
Main Spring Project:
Wildflower Planting
. We now have three sites confirmed for wildflower planting in the Spring, and plenty to do to prepare over Winter. We now know that the sites will be ready for planting, so the next few months is about setting dates and getting the word out to local schools and residents. If you're near Pimp Hall, Lloyd Park or Kitchener Park or want to be involved in any way please get in touch.
Waltham Forest Friends of the Earth
Mini Holland?
Our borough has been shortlisted for some cycling infrastructure funding. To support the 'mini-holland' bid, show your support
here.
To see how Holland got to such a cycle friendly city in just a few decades, watch this
excellent film.
For up to date info follow @WFFoe or #WFMiniHolland. After over 1000 cyclists and many locals joined the 'die-in' at TfL headquarters last week, it's a good time to keep up the pressure.
From Simon Munk: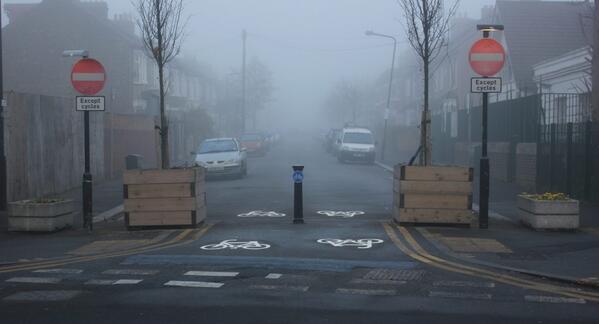 Posted by

WFOC
at 20:47
No comments:

Dear Councillors
At the previous Ward Forum meetings we have had items on the Lee Valley Regional Park that have been of great interest particularly as Lea Bridge Ward includes quite a bit of LVRPA-owned land. As Councillors you have written to the LVRPA Chairman on our behalf in the past to complain about, or query, some decisions of the LVRPA that affect our Ward.
I am now bringing to your attention that the LVRPA has decided, unilaterally and without notice, to abolish its Walthamstow Marshes and Filter Beds Users' Forum - this body covers also the Leyton Marshes.
LVRPA is a publicly-funded body to which this Borough pays considerable amounts of funds. There is only one Councillor from each Borough on the LVRPA Board, so in order for the LVRPA to be fully accountable and provide appropriate services it is essential for them to have direct access to the opinions and expertise of local people/ members of the public who use the Park's land and facilities. It is preposterous that the LVRPA has now abolished the very channel of communication that enables this to happen.
I therefore ask that this matter is placed on the agenda of our next Ward Forum meeting on 11th December.
I look forward to seeing you at the meeting.
Regards,
Claire Weiss
E10 7AR
This week, as Pantomime season gets underway, news has reached SLM that the Lea Valley's annual Panto will be based on
"Robin Hood" - with the wicked Sherrifs of Nothinggreengrowing - taking our taxes but not allowing local people's voices to be heard. Be gone
they
say! Hiss, boo,
we
say... What's all this then? News from the Lee Valley Regional Park Authority's Green Space Manager of Parklands and Venues, Martin Page that the LVRPA have "
decided"
not to continue with the Users Forums (we wondered where they had gone), but instead to have:
conservation volunteering

community events (huh? gasp!)

site management workshops

site improvement projects

newsletter

access to a ranger
All this adds up to a hill of beans (sorry that's Jack and the Beanstalk..) Never has "give us an A" been so
A
ghast. A funny idea of what consultation amounts to. The LVRPA wants the first Management Workshop to discuss Walthamstow Marsh at the Waterworks Centre, 1.30. p.m. on 14 December 1023 (sorry, 2013 - an understandable mistake in the circumstances, Mrs.) Time to get out the pantomime horse?
OH IC ITY - a few weeks ago, we ran a piece about the Olympic land knock down sell off (80% off the original price with no money back for taxpayers), now, courtesy of the "Hackney Gazette", comes news that the Olympic ex- Press & Broadcasting building, will make a return of just £15m in 200 years. This you may wish to know cost £350m. For the full horror of how to use clever accountancy procedures to fleece the public see p.9 of this week's "Hackney Gazette".
OH, OH, THE STOKEY LOCEY .. the friends and residents group Stokey Local are taking their battle to reverse the last planning decision on the Sainsbury's plus flats combo threatening to overshadow Abney Park and blight local shopping, back to Hackney Town Hall, Mare Street on 11 December. Gather at 6.00 p.m. for a Stokey Claus event before the Planning Committee, in front of the Town Hall. For more information on how to sign the petition or give to the cause
http://stokey.local/calin
TROUBLED BRIDGE OVER WATER - after a recent patch up, it seems that problems with the state of Friends Bridge have been happening again.. Hackney Council are said to be "on it" (better watch it then...).
FUNDING WITH EDGE - the Edge Fund is a different sort of funder for community projects. 100 hundred members make decisions on where the good cause money goes. The fund has launched an appeal for monthly donations. If you want to make a difference please go to
http://edgefund.org.uk/donation/
LOADSAEVENTS ..
Firstly,
DO NOT FORGET TO COME TO THE ACROSS THE MARSHES MEETING THIS SUNDAY 1 DECEMBER FROM 2-4 P.M. AT THE RED ROOM, YE OLDE ROSE & CROWN THEATRE PUB 55 HOE STREET, WALTHAMSTOW E17
, when we will be discussing the London Wildlife Trust's report for the LVRPA on Leyton Marsh plus how we can get permanent Bio Diversity Officers with more powers at council meetings. Our new T shirts will be on sale at £12.50.
SANTA PAWS Event - doggie friendly gathering also at the Red Room but on Sunday 8 December at 4.00 p.m. Details from
www.walthamforest4dogs@yahoo.co.uk
GUFFAW XMAS SPECIAL starring Steve Hughes, will be at The Apollo on Wednesday December 18th. Tickets £12.50 from
www.wegottickets.com/event
FRIENDS OF BELAIR PARK - all welcome to an exhibition on flood works affecting the area on 6-7 December from 11.00-5.00 p.m. and also to their AGM on 7 December at 17.30.
DALSTON EASTERN CURVE GARDEN - continues to celebrate the Festival of Light and having a special adult "make and meet" to make lanterns etc. on Wednesday 27 November. For those of you who have never been, this is a delightful "temporary" place, so use it whilst you can.
FUNDRAISING - a few of us formed "The SLaMmers" to take part in the weekly quiz at "The Crooked Billet" pub, Upper Clapton Road, Hackney on Monday, and somehow or other, we managed to win first prize of £80.00 to donate to SLM funds.
Next SLM meeting with be at The Princess of Wales on Monday 2 December, at the Princess of Wales pub, Lea Bridge Road, at the new time (for Hackney meetings) of 7.00. We'll be following up on the Cross Marshes meeting the day before. All welcome.
Thanks to Jonathon Crossley for this: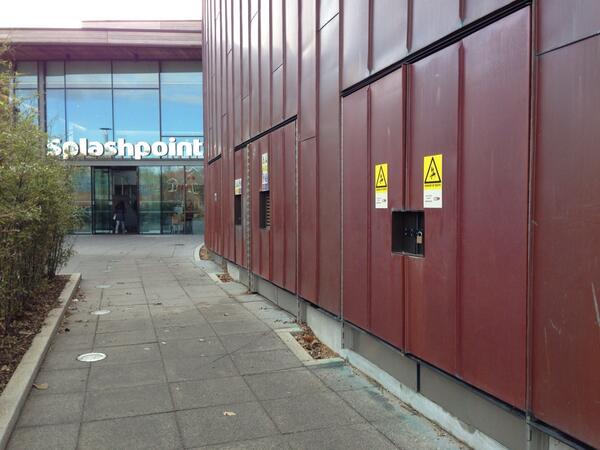 Posted by

WFOC
at 20:40
No comments:

Friday, 6 December 2013
Christmas Carols around the Village Tree:
Tuesday 10th December
Please join us at 7pm on Tuesday 10 December for mulled wine and mince pies around the Christmas tree on the Village Square on Orford Road. Carols will start at 7.30.This year the carols are part-funded by the Waltham Forest Street Party Fund and there'll be a road closure in place in Eden Road from Randolph Road to Orford Road so we can really spread out and enjoy ourselves. The Christmas tree and lights are supplied by London Borough of Waltham Forest.
The carols will again be kindly led by Philip Creasy and the music provided by the wonderful East London Brass.
So bring your family, friends and neighbours to this beautiful, atmospheric event that really heralds the start of the festivities. Wrap up warmly and bring lanterns and some coins for East London Brass who will be collecting funds.
Click here to download and print the carol sheets.
You are receiving this email because you opted in at our website, or gave us your email at a WVRA event.

Our mailing address is:

Walthamstow Village Residents' Association

13 Eden Grove, London, United Kingdom

London, E17 9JU

United Kingdom



Posted by

WFOC
at 22:05
No comments:

I've received the following and thought people who might be interested in the figures:
Dear Sir / Madam
Thank you for taking part in our consultation earlier and or registering for Crossrail 2 project updates.
We are now able to update you on the consultation results and let you know that the consultation results report is now available online at
www.crossrail2.co.uk
We are now working through the suggestions and comments made during the consultation. We hope to be able to publish our response to issues raised in the early spring 2014.
There were a total of 13,933 replies to the recent consultation:
· 13,767 were from the public and
· 166 from stakeholders
Public responses to the consultation
Of the 13,767 replies received, 96% of the public respondents strongly support or support the principle of Crossrail 2. Only 2% oppose or strongly oppose the principle.
Support is high for both route options, but it is the Regional option which has the greatest overall level of support, with 84% total support, against 73% total support for the Metro option. Many of the responses received, requested specific destination to be served.
Stakeholder Responses to the consultation
Of the 166 stakeholder replies received, 86% strongly support or support the principle of Crossrail 2. Only 3% oppose or strongly oppose the principle.
The Regional option has strong support from stakeholders, with 75% strongly supporting or supporting this option, as opposed to just 36% who strongly supported/supported the Metro option. Only 6% of stakeholders opposed or strongly opposed the Regional option. 16% of stakeholders strongly opposed or opposed the Metro option.
As with public responses, a number of specific destinations were requested to be served.
We are now working through the suggestions and comments made during the consultation. We hope to be able to publish our response to issues raised by spring 2014.
If you have any questions regarding the project or the consultation, please email
crossrail2@tfl.gov.uk
We look forward to updating you on the progress of the project in spring next year 2014.
Regards
224308z1z0/2
Paul Plummer Peter Bradley
Group Strategy Director Head of Consultation Delivery
Network Rail Transport for London
******************************
******************************
***********************
******************************
******************************
***********************
Posted by

WFOC
at 21:18
No comments: